The company wants to pursue this practice that is widespread among subscribers, but at the moment it appears to be in a testing process.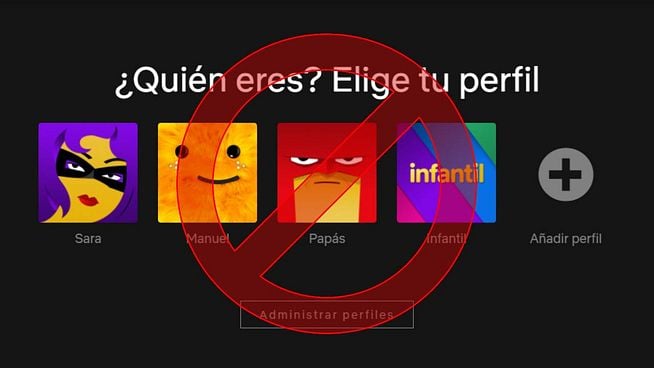 Netflix's next crusade: prevent you from sharing your account with friends. Since it landed in Spain in 2015, the 'streaming' platform has helped eliminate piracy in the film and series industry, but we cannot ignore the fact that another type of deception occurs. When you share an account with your parents, your siblings or your friends, in reality, you are violating the rules of the service and significantly lowering the company's income. Hence, they are considering how to appease it.
Measures to avoid account sharing have been on the table for a long time. In April 2021, Reed Hastings, CEO of the company, spoke about it and, although he announced that subscribers should not worry, he affirmed that it was one of his short-term keys. «We are going to continue working on accessibility in all the countries we serve. As we do this, we want to make sure that the people who use a Netflix account, who access it, are authorized to do so.«, declared the executive.
Netflix is ​​not going to ban you from sharing an account … yet
The remarks were made a few months after some subscribers in the United States were shocked when they saw the following warning when logging in: «If you do not live with the owner of this account, you need your own account to continue viewing».
As stated by Netflix to CNBC in March of last year, the ads were part of one of the many 'tests' they constantly carry out. If they work, become part of the service. If not, they fall by the wayside. «This test is designed to help ensure that people who use Netflix accounts are authorized to do so,» they said in the statement. At the moment, there has been no further news in this regard. Netflix knows that it cannot implement a drastic blocking measure that would cause it to lose a large number of subscribers, especially now that there is a lot of competition in streaming, so they are doing it progressively and taking care of their customers.
These are the prices of Netflix in 2022: what does each plan include? Is there a free trial period?
The 'testing' of the notices seems to be underway, but, What measures will they use to stop this technique? What these tests seem to indicate is that they will implement a verification system through codes that, supposedly, only the real owner of the account would have access. The service will send the code by email or message and you will have to enter it in the profile to continue viewing the content. There is a third option which is 'Check later', by which you can skip this step and continue enjoying your favorite series.
It is a system similar to those used by Google to ensure the security of your account. Although you could continue sharing the account – a call to the person who receives the code is enough to tell you – it certainly makes it much more difficult, especially if there is not so much trust.
Is it legal to share Netflix accounts?
There is a great debate surrounding whether or not this practice is legal. If we listen to what the Netflix Terms of Use -the version of January 1, 2021-, it is clear that you cannot share accounts. «The Netflix service and all content viewed through the service are for your personal and non-marketable use and may not be shared with individuals outside your home. During your Netflix subscription, we grant you a limited, non-exclusive right and non-transferable, to access the Netflix service and watch Netflix content «, you can read in the document.
The only context in which shared Netflix content is intended to be shared is within the same household. That is, your parents watch a movie in the living room, while you watch a series in your room and your brother does the same in his own room. All of you would have the same account, but you would enjoy the option of simultaneous screen in a legal way and allowed by the company.
If you want to be up to date and receive the premieres in your mail, sign up for our Newsletter