Antena 3 broadcasts tonight the two episodes of this miniseries that has swept France. After living through a nightmare, she is now the voice of the anti-bullying movement.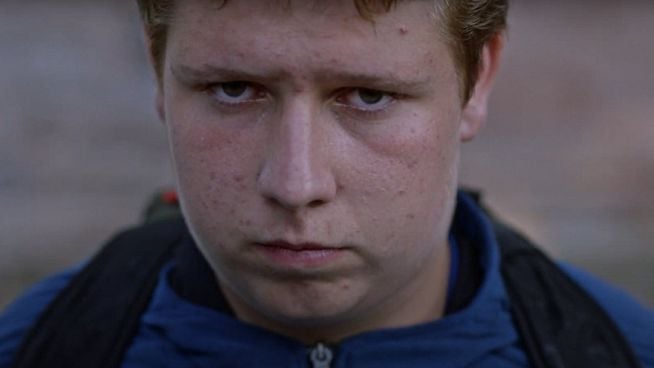 Jonathan Destin was 16 years old when he set himself on fire to end his life. He had been bullied for years by his high school classmates and wanted to commit suicide. He did not succeed, but his story has become an icon for the fight against 'bullying' in schools. Destin wrote a book to tell what happened, Condamned to me -Condemned to kill me-, which was transformed into a television miniseries titled The day that I burned my heart. Antena 3 broadcasts it tonight at 10:45 p.m..
The history of Destin has served to awaken consciences. His desperate act and, above all, his survival have served to open a necessary debate about violence in the classrooms and 'bullying' in all its forms. It premiered on the National Day Against Bullying in France in November 2018 and had record-breaking audiences. But who was Jonathan Destin really?
Destin was born on December 9, 1994 in Lille, northern France. He was a happy kid until they started insulting him when he was 10 years old. «They put a gun to my forehead and asked me for 100 euros. They told me: 'If you don't give us the money, we will kill you and we will kill your parents.», tells in an interview with Antena 3. The attacks grew over time and the beatings and threats became constant. He was silent. He was too ashamed to explain what was happening to him and the adults around him saw it as something normal. «Some teachers pretended not to realize what was happening, because they were afraid of the students who were harassing them. Others did not know anything, because I did not dare to talk about it, for fear of reprisals,» he declares to 20 Minutes.
«On February 8, 2011, I decided to end it all. I bought a liter of alcohol, poured it on my clothes and set myself on fire.» This is how Destin tells how she got to a point where she couldn't take it anymore. He could not continue to bear the insults of his companions. The plan did not have the end he expected and he came out alive. He went through more than twenty different operations in the decade after, but his life changed radically..
It was then that everything he had suffered came to light. The people around him began to wonder what had happened to him and they realized the humiliations he had endured for years. The young man became a public figure to report cases like his. Currently he is dedicated to giving talks in schools and giving voice to who is now a victim just like he was.
It still suffers great consequences, both physical and psychological. He is still in treatment for the burns he suffered, since, as he tells LanternHe lived «two years in the hospital. I am in a period of rehabilitation, I am moving forward, each step I take is one more step». At the same time, you should go to therapy regularly to help you overcome the traumatic shock that the experience left you. The talks he gives are also very helpful in your recovery.
Jonathan Destin's story paved the way for the first law against bullying in schools and institutes in France, which was enacted three years after it was set on fire. Its impact remains intact. Tonight, after the broadcast of the film, Antena 3 has scheduled a special on bullying, where, in addition to interviews with experts, it will host an exclusive interview with Destin.
If you want to be up to date and receive the premieres in your mail, sign up for our Newsletter