Discover the novelties that arrive this Friday to the Spanish billboard.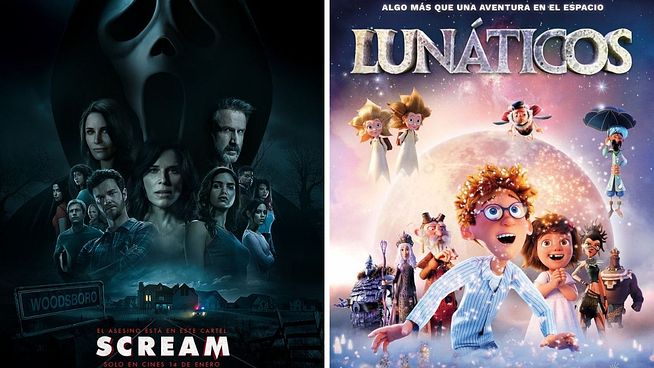 The return to routine in this second week of the year deserves a movie ending. To disconnect from the whirlwind of work and studies, the best thing you can do is go to your favorite movie theater and discover what's new on the billboard. One of those novelties is Scream, the new installment of Wes Craven's horror franchise, which returns to the original cast.
For children, the animated film Lunatics premieres this weekend. A perfect space adventure to put the finishing touch on going back to school.
Then you can check movies opening in theaters this weekend:
'Scream'
The unforgettable ghost face returns to the big screen 25 years after its first appearance with the new installment of scream, the horror franchise created by Wes Craven in 1996. The protagonist of the first installment, Sidney Prescott (Neve Campbell), once again becomes the main target of the mysterious serial killer who has restored panic in little Woodsboro. Prescott will once again have the veterans of the saga, dewey riley (David Arquette) and Gale Weathers (Courteney Cox), to join a new group of young protagonists who are also trying to flee from the ruthless criminal.
'Scream': We bring you up to date on the horror saga
'lunatics'
For the little ones in the house this week it arrives in Spanish cinemas, Lunatics, a space adventure based on one of Germany's most popular children's books, Peter's trip to the moonby Gerdt von Bassewitz. The story introduces us to Peter, a boy who dreams of being an astronaut like his father. What he never would have thought is that his passion would lead him to embark on a journey into space with the aim of rescuing his sister. On his journey, he is accompanied by some unique creatures with whom he will live a magical experience.
The animated film Looking for the magical Doremi, and the dramas Madeleine Collins and Caged Birds (Until we're dead or free) complete the list of premieres for the week.
Check here all the premieres of the week
If you want to be up to date and receive the premieres in your email, sign up for our Newsletter.