The interpreter leaves Raj Koothrappali behind and becomes one of the suspects in a kidnapping in 'Suspects', the fiction starring Uma Thurman for Apple TV +.
Kunal Nayyar will always be unforgettable for his years as Raj Koothrappali in the unforgettable 'sitcom' The Big Bang Theory, but now he is premiering a new series as the protagonist and his new character could not be more different. Also the series itself is worlds away from the one that starred alongside Jim Parsons, Kaley Cuoco, Johnny Galecky and Simon Helberg, since it is not a joke and, on the contrary, it is an anguishing and full 'thriller' of action.
Is about Suspicion, will be broadcast in Spain under the title Suspects, It will premiere on Apple TV + on February 4 and you can already see its official trailer on these lines. In it, in addition to Uma Thurman as the main character, you can also see Nayyar in the shoes of this character so different from the astrophysicist of big Bang: Aadesh Chopra, one of the suspects in a kidnapping. They are joined by Noah Emmerich, Georgina Campbell, Elyes Gabel and Elizabeth Henstridge.
Even if Suspects It is not Kunal Nayyar's first work since the end of The Big Bang Theory In 2019, the truth is that it is the most important. Previously, the interpreter had again lent his voice to Diamond in Trolls 2: World Tour, he starred in one of the episodes of season 2 of Criminal: United Kingdom on Netflix and a supporting role in the film Think like a dog.
Not bad at all, but 2022 is shaping up to be an even more promising year. At Nayyar will be the protagonist of a new series and has two films in the works: Spaceman Y The Storied Life of AJ Fikry.

What to expect from 'Suspects'?
The new Apple TV + series will consist of eight episodes and its starting point will be the kidnapping and subsequent disappearance of the son of an important businesswoman.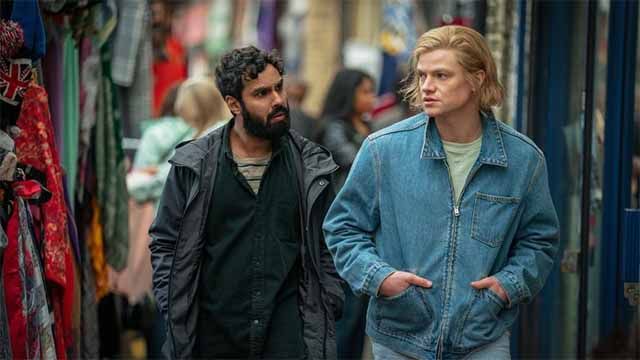 This is how the official synopsis:
When the son of a prominent American businesswoman is abducted from a New York hotel, suspicions quickly fall on four seemingly normal British citizens who were at the hotel on the night in question.
«As they find themselves on a transatlantic cat and mouse chase to evade the combined forces of the National Crime Agency and the FBI in order to prove their innocence, it becomes clear that not all of them are to be trusted. Who is really behind the mysterious kidnapping and who is solely to blame for being in the wrong place at the wrong time? «.
Based on the award-winning Israeli series False Flag, Suspects It will premiere its first two episodes on Apple TV + next month, to later air a weekly episode every Friday.